Event Date:
Thursday, February 27, 2020 - 12:30pm
Event Location:
Lane Room Ellison Hall 3824
ERIC HELLEINER
Political Science, University of Waterloo
Thursday, February 27, 2020
12:30 - 2:00 p.m.
Lane Room, Ellison Hall 3824
The Diverse Ideological Origins of Chinese and American Neomercantilism
Abstract: Free trade ideology is being contested around the world today by neomercantilists who prioritize the promotion of their state's wealth and power through strategic trade protectionism and other kinds of government economic activism. Neomercantilist ideology now even dominates policymaking in the two most powerful states in the world economy: China and the United States. In contrast to that of many other ideologies, the history of neomercantilist thought is not well understood. Indeed, dominant depictions of the origins of this ideology are very unhelpful for interpreting its Chinese and American manifestations in the current age. In this talk, Eric Helleiner highlights the limitations with these dominant approaches and argues for an alternative one that recognizes the diverse ideological roots of neomercantilism, including its two distinct Chinese and American varieties.
Bio: Eric Helleiner is Professor in the Department of Political Science and Balsillie School of International Affairs at the University of Waterloo. He has authored and edited eleven books, including The Forgotten Foundations of Bretton Woods (2014), The Status Quo Crisis (2014) and Governing the World Biggest Market (2018). He is currently completing a global intellectual history of neomercantilist thought. He is a Fellow of the Royal Society of Canada and presently co-editor with Jonathan Kirshner of the book series Cornell Studies in Money.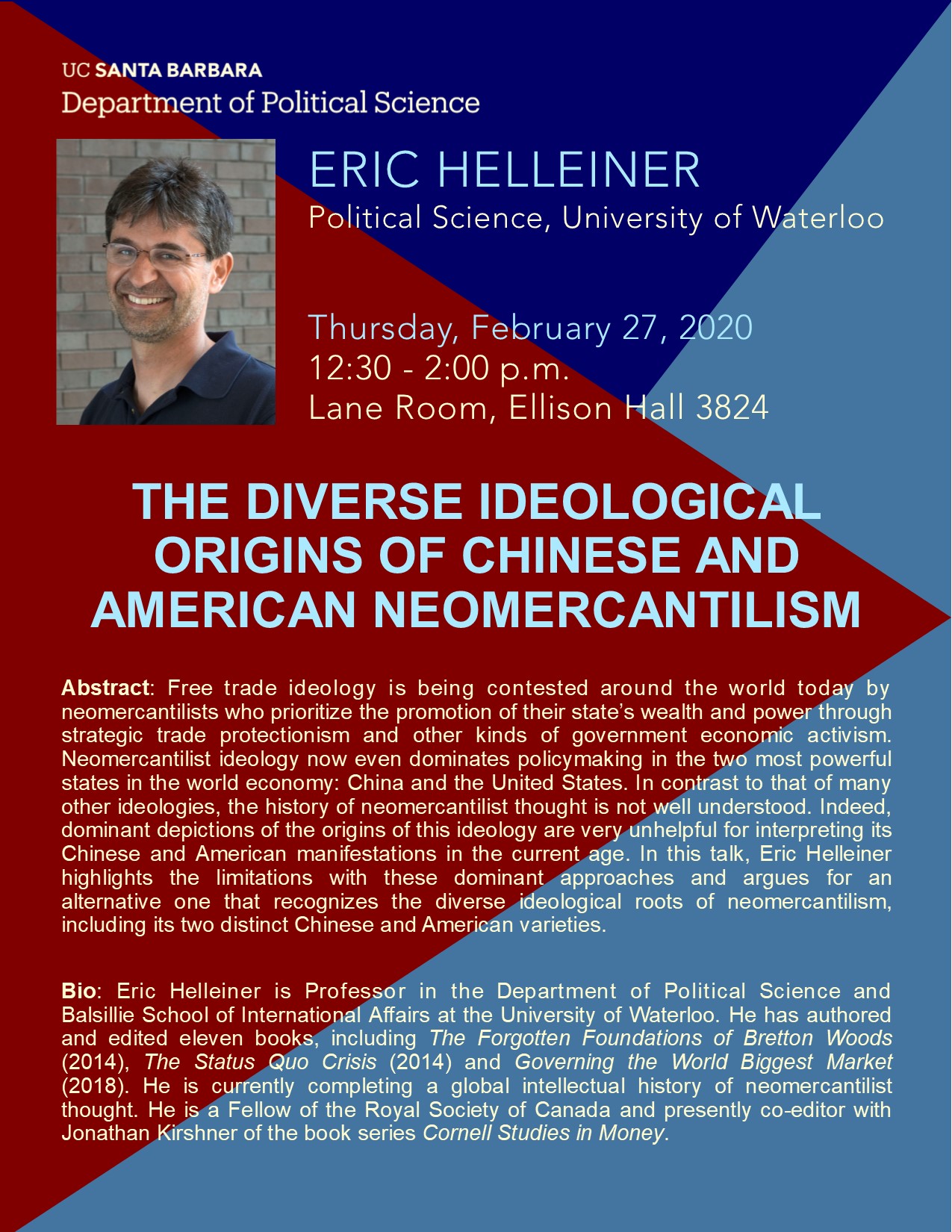 February 13, 2020 - 3:01pm