Event Date:
Thursday, February 20, 2020 - 4:00pm
Event Location:
Lane Room Ellison Hall 3824
ALISON BRYSK
Global Studies, UCSB
Thursday, February 20, 2020
4:00 - 5:30 p.m.
Lane Room, Ellison Hall 3824
CONSTRUCTING RIGHTS IN TAIWAN: THE FEMINIST FACTOR
Abstract: In an era of worldwide rights regression, Taiwan remains Asia's most democratic and gender-equitable nation, and a regional role model. What accounts for this seemingly exceptional record? This paper will show how women's rights, democratization, and international rights promotion in Taiwan have been mutually reinforcing and beneficial for the national interest.  Taiwan is actually "the exception that proves the rule," in a pattern of rights construction parallel to other highly globalized liberalizing middle powers outside the region.  Like Costa Rica, Canada, the Netherlands, and the Nordic countries, Taiwan has established a democratic niche and transnational mode of diplomacy rooted in the pursuit of gender equity that have fostered human security, amplified its influence and helped to construct a rights-based national identity.    
Bio: ALISON BRYSK is the Duncan and Suzanne Mellichamp Professor of Global Governance at the University of California, Santa Barbara. She is the author or editor of fifteen books on international human rights, most recently The Struggle for Freedom from Fear: Contesting Violence Against Women at The Frontiers of Globalization (Oxford University Press, 2018) and The Future of Human Rights (Polity Press, 2018). Professor Brysk has been selected Distinguished Scholar in Human Rights of the International Studies Association and the American Political Science Association; a Fellow at the Woodrow Wilson Center; a Fulbright Professor in Canada, India, and the UK; a Taiwan Fellow; and a member of the Council on Foreign Relations.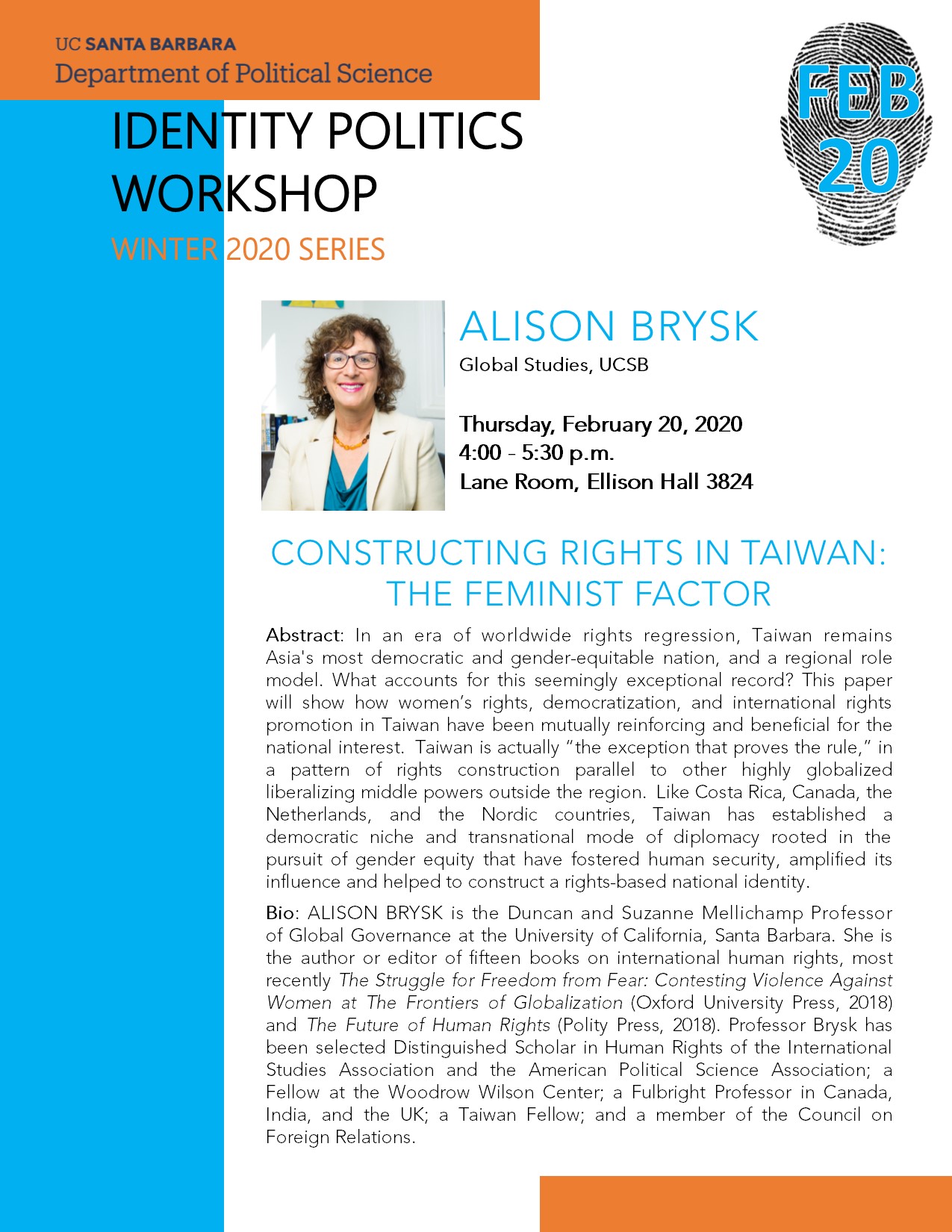 February 12, 2020 - 2:14pm