Event Date:
Thursday, November 7, 2019 -

12:30pm

to

2:00pm
Event Location:
Ellison Hall
Lane Room 3824
Citizen Outsider: Children of North African Immigrants in France
Abstract:  Based on past and current ethnographic research in the Parisian metropolitan region, I discuss how racial and ethnic minorities understand and respond to their racialization in a context in which race and ethnicity are not legitimate or acknowledged. I demonstrate how racial and ethnic minorities are "citizen outsiders," as evident of France's "racial project" (Omi and Winant 1994), which marks distinctions outside of explicit categorization. I explore not only how race marks individuals outside of formal categories, but also how people respond to these distinctions  given the constraints of French Republican ideology. 
Bio: Jean Beaman is an Assistant Professor of Sociology at the University of California, Santa Barbara. She was previously on the faculty at Purdue University and has held visiting fellowships at Duke University and the European University Institute (Florence, Italy). Her research is ethnographic in nature and focuses on race/ethnicity, racism, international migration, and state-sponsored violence in both France and the United States. She is author of Citizen Outsider: Children of North African Immigrants in France (University of California Press, 2017), as well as numerous articles and chapters. She received her Ph.D. in Sociology from Northwestern University. She is also an Editor of H-Net Black Europe, an Associate Editor of the journal, Identities: Global Studies in Culture and Power, and Corresponding Editor for the journal Metropolitics/Metropolitiques.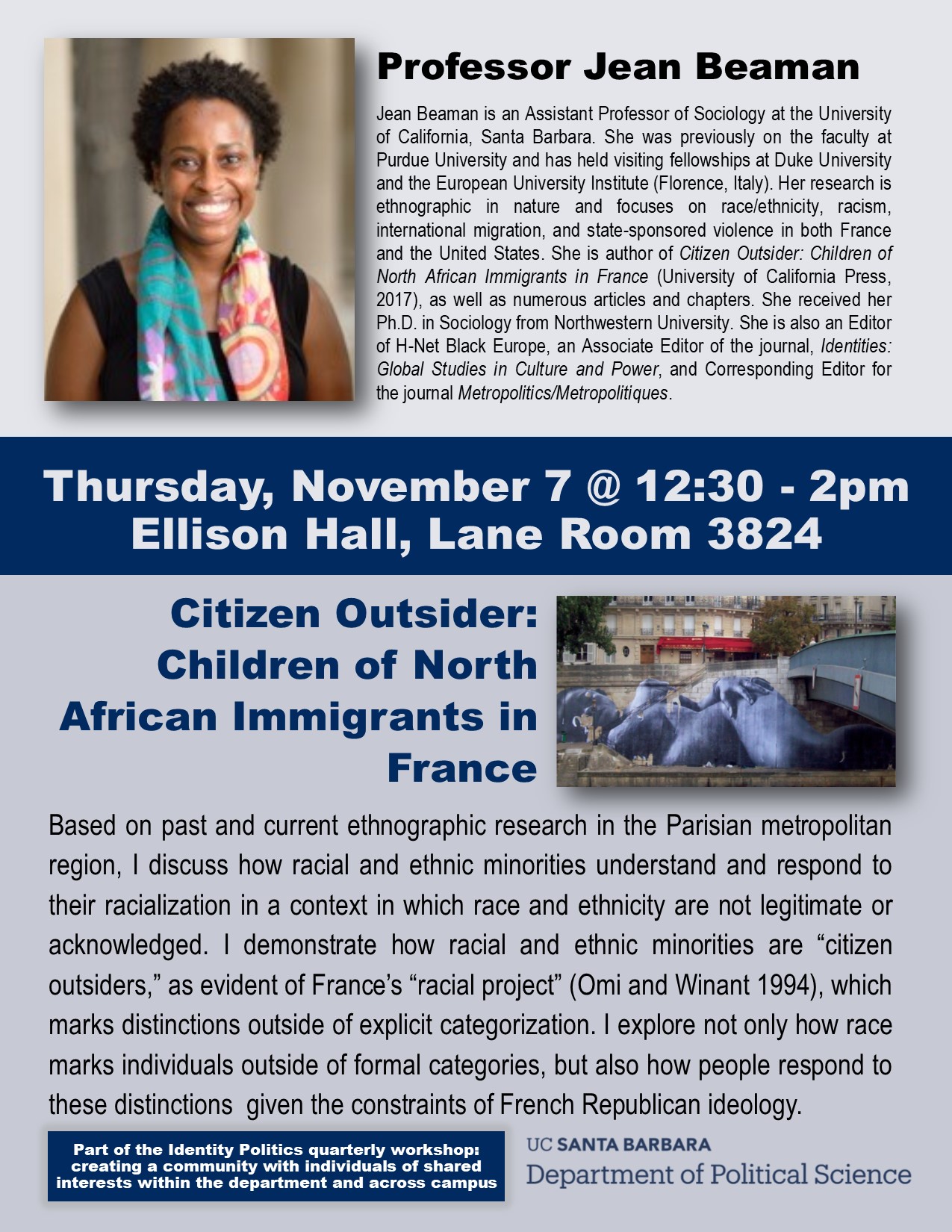 October 18, 2019 - 12:10pm